Landy and his late grandson, Daniel Jr., pose on Father's Day 2008. A little over two months later, on August 24, 2008, Daniel Jr., 21, was killed in an auto accident. Daniel idolized his grandfather and often said, "Dad, I'm more like Grandpa than you are, it skipped a generation."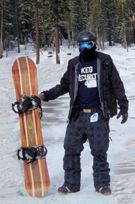 I think he was right. Daniel was full of adventure and had the same strength and determination as his grandfather. While Daniel never drove a race car, he did race down the snow covered mountains of California every winter. His friends watched in wonder at how fast and fearless he was. He was also a member of his high school's varsity swim team (2 years), a life guard, an accomplished wake boarder and a certified "Advanced Open Water" scuba diver. Hiking in the mountains, fishing, weight lifting, mountain biking and his beloved dog "Lugar" filled the rest of his free time. Daniel was about to join the United States Army, to fulfill his life long dream of becoming a member of the elite Special Forces, before his untimely death. Something that Daniel said about a week before he died gives a little peace to all who knew and loved him, when he told a friend, "I believe in God, that's how I roll."
Daniel is survived by his father, Dan Sr.; his mother, Aurora; his much loved sister, Michelle ("Chelle"); his niece, Maya; his grandfather, Landy; his "Auntie Bubba" (Sharon Murillo); his grandmother, Alicia; many other relatives and an unbelievable number of loyal friends who all said that the party never got started until Daniel arrived...sounds a lot like his Grandpa Landy!!!
Daniel, beloved son, brother, grandson, uncle, nephew and friend...you are missed.
You are always in our hearts.