By: Landy Scott
Excerpts were originally published in the monthly newsletter of the Wisconsin Chapter of the Studebaker Driver's Club, 1977, under the title; "Powered by Studebaker" - Article update: January 29, 2007
This was the late 30's and midget racing was at it's peak. Tracks were featuring midgets from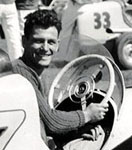 coast to coast and the Mid-west was the hot bed of the sport. I started where most people started in those days, stooging for an established driver. "Stooging" was being a part of the pit crew. Hanging out and doing whatever needed to be done to get the car on the track. My mentor was the great Wally Zale, one of the winningness midget racers of all time. I stooged for Wally Zale for three years (1939, 40 and 41). After pestering Wally long enough, I was about to get my first ride when he was tragically killed in a auto-train collision on May 5, 1942, in Chicago. Later that year, on November 30, I was drafted into the Army.
Wally Zale, "The Chicago Cyclone" and his green #9 midget were frequent visitors to "Victory Lane", once winning an amazing 14 of 16 feature starts, nine in a row. He won 46 features during the 1936 season and four years later won 69 main events.

After being discharged from the Army Air Corps in March of 1945, I took my mustering out pay of $300.00 and bought my first midget, "The Beeler Bar Special." It was painted green (considered unlucky in auto racing), with the number 9 and a four cylinder Chevy engine.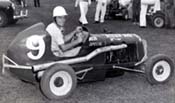 It was late in 1946 season, my first year driving. I was at the Manitowoc County Fair, and this day was turning out no different than many. The car was constantly developing some sort of trouble all season long. Rods kept going out, rear ends braking, wheels fell off, or some other sort of problem.
On one particular day it was not running at all when a fellow came up to me and said, "You need help!" I replied, "Boy, I sure do." After he worked on my car for about a half hour, I went out and won my first heat race.
The fellow turned out to be George Welch, who from that time on was to be my mechanic and me, his driver. We made a deal for me to drive his car, an old 4 cylinder Plymouth, number 17. It turned out to be a little better than my number 9, but not by much. I drove the car the next day and placed fourth in the feature race.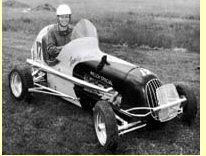 The next race was to be at the famous Milwaukee Mile, the last race of the season. I started last in the "Wisconsin Class B" race. When the starter dropped the green flag, I was in first place. The race was stopped and I got chewed out for jumping the gun. On the second start, I took the inside track and did the same thing. The race was halted again, and again I got chewed out from Bill Vandewater, one of the very best starters in the country. The third start went off smooth and I stayed in my place. I worked myself up to fourth place, and then hit the outside fence, which I rode half way around the north turn before getting hung up on a light pole. There I remained for the rest of the night. George was the happiest guy at the track that night, just seeing his car go. He told me that if I drove for him the following year, he'd build a new car for me. I agreed.
George got a rail frame and an old Model T front end, a rear end from an old race driver by the name of Ted Rosston (South Milwaukee), and a body, then started to put everything together. He picked up a 1941 Studebaker Champion engine and worked on porting and relieving it for two weeks every night. Then he put in Pontiac exhaust valves and Dodge valve springs. He sleeved it down and put in 1939 Studebaker rods, which were shorter than those used in 1941. He used Jahns pistons and a Plymouth carburetor. Everything else was stock Studebaker.
We painted the car maroon and cream with the number 17. The colors and number design was borrowed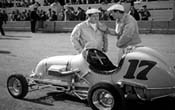 from the Johnny Pawl midget (right) driven by Ted Duncan which was featured in the 1947 "Abbott and Costello" movie, "Buck Privates Come Home." The two-tone paint scheme was George Welch's design.
We decided that for the first three races we would take it easy and feel out the new car. Here are the results. First race: Seventh fastest time, second in the heat race and fourth in the feature. Second race: fourth fastest time, first in the heat race, leading the feature when the fuel pump gave out (we changed to an electric fuel pump after that). Third race: fourth fastest time, eleventh in the heat race and third in the feature.
By the fourth race we were ready to go and see what we could do. No holding back! That was at Darlington, Wisconsin on a half-mile track. I had fourth fastest time in qualifying and first in my heat. In the feature race John Dietz and I engaged in a spectacular duel for first place, when on the seventh lap we tangled and went through the fence. Billy Johnson went on to win.
We went on to win the 1947 Badger Midget Auto Racing Association's Championship.
Over the next two seasons we complied the following record:
| | | | | | |
| --- | --- | --- | --- | --- | --- |
| 1947 & 1948 | First | Second | Third | Fourth | Fifth |
| Features | 20 | 14 | 12 | 14 | 4 |
| Semi-Features | 13 | 15 | 17 | --- | --- |
| Heat Races | 20 | 24 | 16 | --- | --- |
In 1948, with a new Kurtis Kraft body, we raced in five special "Musketeer Races." These races were held over five consecutive weeks at various tracks, between the top four drivers. The drivers consisted of: Chet Morris, Kelly Peters, Billy Johnson and me. I won all five races.
During the 1948 season, on June 21st (my birthday), I was burned over 40% of my body, when a water hose broke during a race at Sun Prairie. During the weekend of July 2 - 4, against the orders of my doctor, I was back in my race car. My crew had to remove the steering wheel from the car and lift me in, because I couldn't bend my legs enough to get in under my own power. Between races I would remain in the car, as the pain was too great to get in and out. We won 2 of the 3 Feature races.
I had a practice of staying in second until the last lap and then pass for the lead, but this time I guessed wrong and missed the win by two feet. George asked my what was wrong and I told him that the car just lost power. George tore the car apart trying to figure out what went wrong, but found nothing. I finally admitted that it was my misjudgment that cost us the race. George laughed and that became a running joke.
Later that year, Chet Morris was driving a Kurtis-Kraft midget with a Granatelli engine. George offered to help him. He took an old engine that Chet had lying around and put it together for him. Chet and I went out and finished first and second in the next three races. The engine was better than the one that Chet had paid Granatelli $1,200.00 for (remember what $1,200.00 was worth in 1948).
One of my most notable memories of the "Welch Stude" was a 50-lap race at the famous Milwaukee Mile in 1947. This was one of the premier races of the year, which drew the top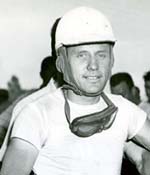 drivers and cars from throughout the country. Names such as Tony Bettenhausen, Mike O'Halloran, Rex Easton, Paul Russo, Myron Fohr, and Frank Berany to name a few. These were top drivers of the day, driving the best equipment, all powered by Offenhauser engines, designed specifically for racing. I was driving the Studebaker powered midget of George Welch. I surprised everyone when I qualified for the feature event. I started from the thirteenth position and held the spot of the entire race. With the only "stock engine" in the field, we more than held our own.
George Welch could have been the best racing mechanic in the racing business if he had really wanted to. He was a kind and gentle man. He was thoughtful and patient to everyone that he met. He was one of the greatest guys that it was my pleasure to know. I miss him, and his subtle sense of humor very much.
Even after we parted ways after the 1948 season, he built me a new engine for my car. He put on three Riley carburetors and tuned it to run on pure alcohol, which was a first at the time. The car ran the entire season without any mechanical problems. We won races too! After parting ways, George ran one more season, before selling his car at the end of the 1949 season.
In 1949, I bought my own car, a green #9 and drove it for two years. In 1950, Pete Pavasil bought the "17" for his brother Al to drive. Al flipped it on the first lap of qualifying of his first race. The car landed on Pavasil, breaking his back. I drove the car for the remainder of the season without much success.
I also tried my hand behind the wheel of "Stock cars" during the 1949 season. Stock car racing was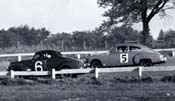 relatively new and not nearly as popular as midget racing. I drove a 1938 Ford in 12 races throughout Wisconsin, winning 11 of them. My lone loss was in a race where I rolled the #6.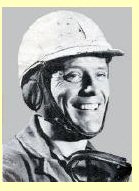 Then in 1951 Jim Maloney and Don McGaw bought the car. I drove it for them until 1954. In 1955, Boyd Konick, and I bought our own car, a #7. In the meantime, McGaw got Ron Erfurth to drive the "17". Once again, the curse of the "17" struck. In a heat race, Erfurth flipped and went over the fence. The car sat idle until August 1, 1955 when I bought it.
In 1956 we felt the "17" needed an update, so we bought a Kurtis Kraft chassis from Johnny Paul. It had a broken front axle, no steering and no rear end. We reinstalled the Studebaker Champion engine, steering gear and gear box from the original "17." We installed a "quick change" rear end. By this time we were running a magneto and fuel injection. I drove that car until 1961, when I retired from racing. I sold the car to Pancho Pinilla, of Chicago, Illinois for $2,250.00 and bought land on Green Bay on which to build a cottage....but, that's another story. Pancho removed the Studebaker and installed a Ford. The car exchanged hands for a number of years before being stripped for parts and moth balled in someone's garage.
I hope you enjoyed my story. It was a great career with many beautiful memories.
*** Read the rest of the story on our "#17 Midget Today" page. ***
Find out what happend to Landy's midget and where it is today.